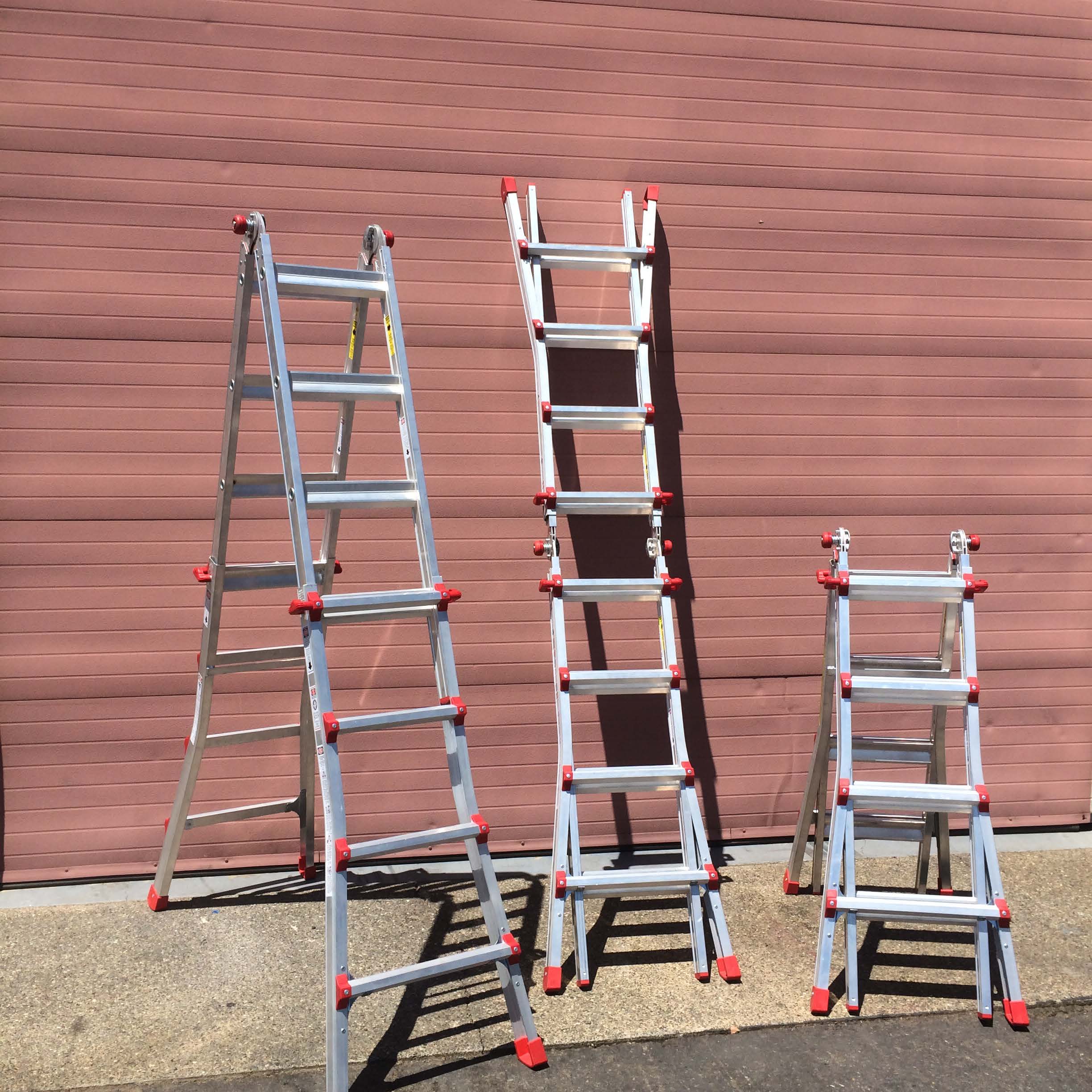 Multi-Function Ladder
We stock and sell multi-function ladders. Our multi-function ladders operate the same as a Little Giant Ladder. They can be used as a step ladder or an extension ladder. The legs are adjustable so the ladder can be level on sloped ground. These ladders function the same as a Little Giant ladder, but are half the cost. Call us today to get pricing on our multi-use ladder.
Multi Function Ladder Details
Our multi-function ladders, sometimes called little giant ladders, are manufactured by Titan Ladders. They are 300 lbs. rated. The articulating ladder can fold for easy storage. It is aluminum in material maximizing strength to weight ratio. Ladder can adjust from an A-frame type to an extension ladder type. We carry the model 17 and model 22 multi-function ladders.
Model 17:
Adjustable step ladder height (4′-6″ to 7′-6″)

Extends up to 17'
Model 22:
Adjustable Step Ladder Height (5′-6″ to 9′-6″)
Extends up to 22′
Articulating Ladders are Great for Homeowners
Are you a homeowner looking for a ladder to handle all chores. Look no further. Our multi-use ladder is designed to be used as both an extension ladder or an A frame ladder. If you need something to reach into the attic, clean the gutters, and trim trees, then the multi-function ladder is what you need.
Industrial Ladder and Scaffolding, Inc.
We specialize in ladders and scaffolding. We sell attic ladders, roof access ladders, fixed ladders, mult-function ladders, steel scaffolding, aluminum scaffolding, and other portable access equipment. We also carry orchard ladders, platform ladders, step ladders, and double step ladders. Since 1959, we have been helping customers find the perfect ladder. Call us today and we will be happy to answer any question that you might have.