Rolling Ladders
Our mobile Rolling Ladders products provide safe and effective access to your projects, wherever they may be.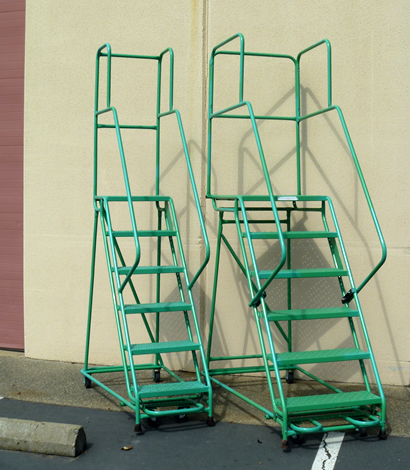 Safe Rolling Stairway
The rolling warehouse ladders move to your desired location on heavy duty casters, and provide a stable work surface when in use. Once in position, the mobile ladder stands enable personnel to securely and effectively access various materials or equipment in a safe manner. With a wide selection of custom ladder designs and features, the Rolling Stair offers access solutions for both common and unique tasks. Some of the options on are rolling ladders include the following:
Knock Down design reduces shipping costs
Standard 12″ deep top platform
Large 2″ dia. non-skid, non-marking shoes
1″ dia. steel tube construction
42″ tall guardrails on all models
OSHA Safety green enamel finish
Meets CAL/OSHA requirements
Meets Federal OSHA/ANSI requirements
350 lb. Capacity
Extra deep top step available as 24" platform depth (Standard is 12″).
Hot dip galvanized finish.
Tread Styles:
Traction Tread (Standard) – Provides greater non-slip protection than Diamondplate
Diamondplate– Provides anti-slip protection through the use of raised diamond shaped ribs on a fully closed step surface
Safety Grating– Provides maximum non-skid protection in wet and/or dry conditions.
Industrial Ladder and Scaffolding, Inc.
We are dedicated to meeting your specific rolling stairway application requirements. Please call us today at (916) 452-0231 with any questions or for a free quote.