Roof Hatches
We stock 30″ x 36″ Steel Roof Hatches in our Sacramento warehouse.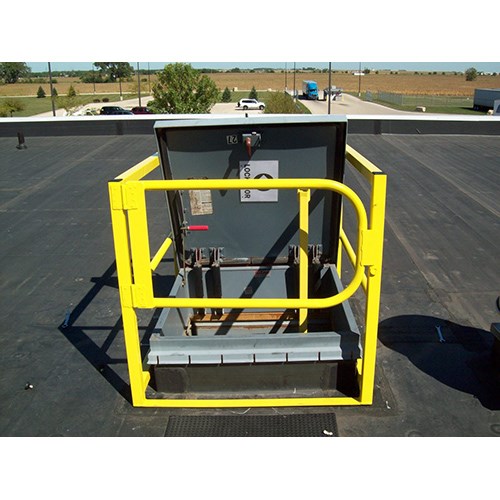 Roof Hatches with Safety Rails
Fixed hatch railing system provides a permanent means of fall protection for roof hatch openings.
Available with locking chain or one-way swing gate.
Standard Finish is Safety Yellow.
Save money by ordering our roof hatch/safety rail combination.
Fixed Ladder Design and Manufacturing
If you are a looking for a roof hatch then you are looking for a ladder. We custom fabricate roof access ladders to your needs. If you need a security door, safety cage, or spring loaded ladder up safety post then please call us @ (916) 452-0231.
Roof Hatch Design
Heavy duty gas spring

1″ fiberglass Insulation and a cover liner of 18 gauge aluminum

Weather-tight welded curb

4″ wide mounting Flange with pre-drilled holes

Heavy duty hinge

Plated T-Handle

Padlock Hasp

Locking Hold-Open device

EPDM weather gasket

Available for standard or heavy duty applications in 11 standard sizes

All roof hatches come with a 5-year Manufacturer's Warranty.
Fixed Access Ladder Up Safety Post
Post that mounts to the top of Industrial Ladder's fixed access ladder that  functions as a handrail for easy access on and off of the roof when the roof hatch is opened.

Post is below the roof hatch lid when in the closed position to allow the roof hatch door to close.
Since 1959 Industrial Ladder & Scaffolding Inc. has provided superior commercial, industrial and residential roof access ladders, roof hatches, roof hatch guard rail systems, and spring loaded access ladder-up safety posts.
Design
Manufactured from a variety of materials, including plastic, aluminum, steel and other substances, our industry-leading roof hatches are sturdy, dependable, and will provide reliable roof access for convenient loading or unloading of tools or equipment, as well as emergency use. We can provide a customized roof hatch that can include additional gaskets, insulation or other amenities to protect against inclement weather and provide optimum energy efficiency and security, all specifically tailored to your unique roof hatch needs.