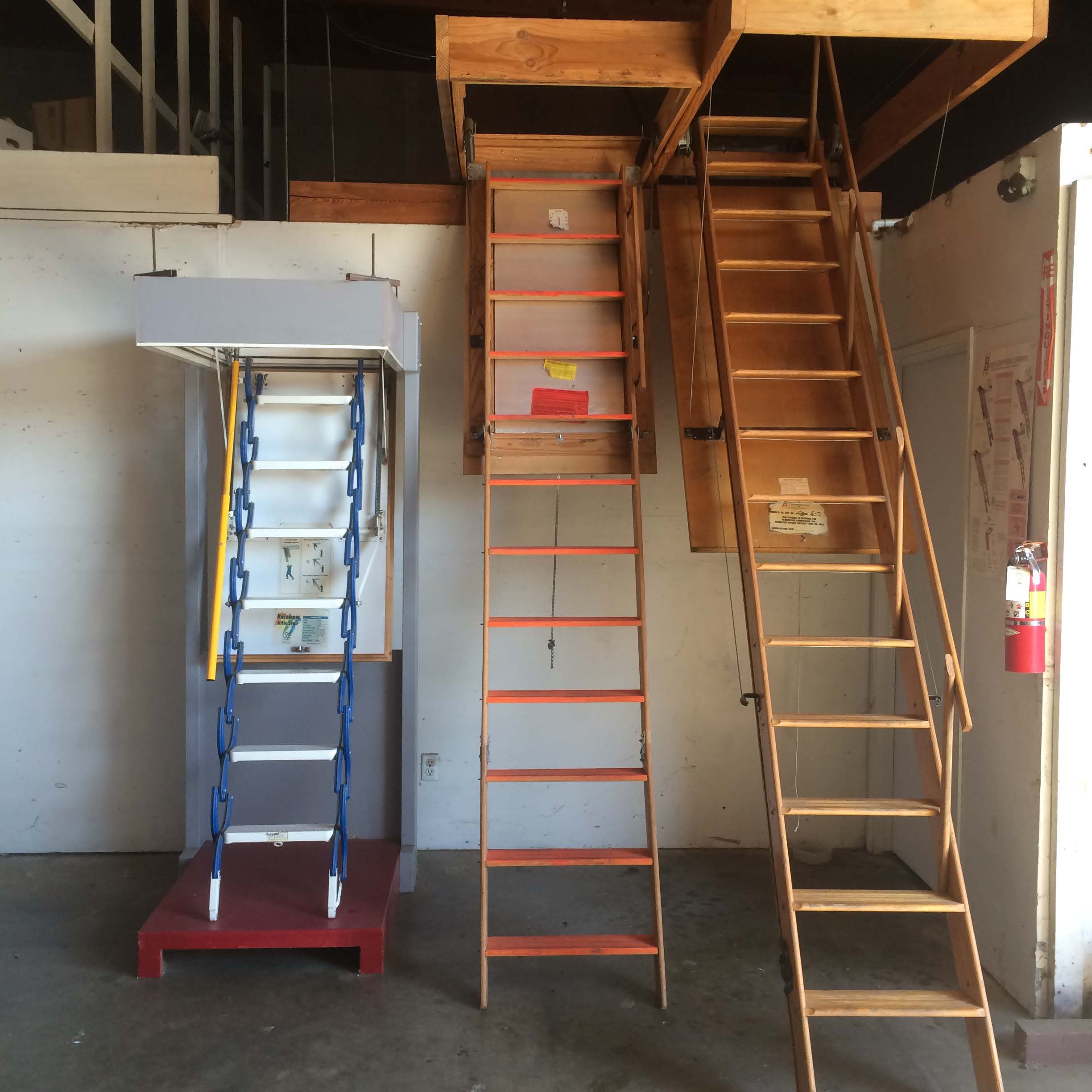 Bay Area Attic Ladders
Industrial Ladder & Scaffolding, Inc. has been providing attic ladders to Sacramento, Oakland, San Jose, and the San Francisco Bay Area since 1959. With years of experience, we can help you choose the right attic access ladder. We stock different brands, sizes, types, and fire ratings.
Bessler Attic Ladders
We stock the premier brand of Bessler Attic Ladders for your attic space. Bessler manufactures a very high end folding attic ladder where only the best materials and workmanship are used. Named the "Space Saver", it comes equipped with a handrail, 6″ high visibility stair tread, and a suggested load capacity of 350 lbs.
We are Bessler's number one West Coast representative with a relationship lasting more than 20 years. We stock the model 70 disappearing attic stairway. If you are looking for the absolute best way to access your attic than look no further. This one-piece stairway easily slides into your attic space allowing for a hidden stairway. It also carries a 600 lb suggested load limit, full length handrail, and a 57 degree climbing angle. Call us today to get fitted with your model 70 attic stairway.
Rainbow Attic Ladders Sold Here
Last but not least comes the Rainbow Attic Ladder. Rainbow supplies many different styles but the most popular is there Prestige model. This attic ladder telescopes up and down allowing for a lightweight operation. We recommend the Rainbow Prestige Attic Ladder for it's amazing looks, ease of operation, and a 350 lb weight capacity.
We sell Attic Ladders to Sacramento, San Francisco, San Jose, and the rest of Northern California homeowners and contractors. Our ladders are available in wood or aluminum. The access ladders come in different  models and sizes. (For size charts please see our downloadable brochures located below)
Our pull down ladders create a perfect solution for gaining access to an upper level without blocking a common walkway or living area. Our folding attic ladders allow for safe attic access.
The decision can be hard. If you are a person that needs to see it before you buy it then come to our Sacramento showroom and try the different options before you purchase. We pride ourselves in offering industry leading customer service.
Attic Ladder Downloadable Brochures